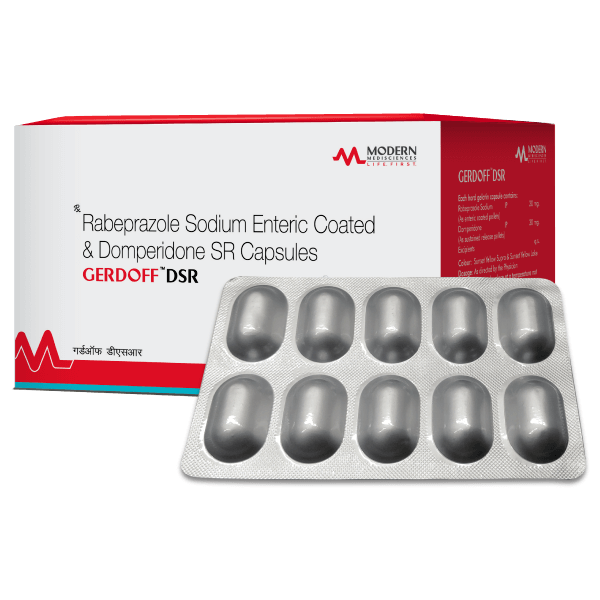 Composition
Rabeprazole Sodium 20mg+ Domperidone 30mg SR Capsules
Indications
Gastro esophageal reflux disease
Duodenal ulcers
Helicobacter pylori eradication
Description
Domperidone is a prokinetic which works on the upper digestive tract to increase the movement of the stomach and intestines, allowing the food to move more easily through the stomach.
Rabeprazole is a proton pump inhibitor (PPI) which works by reducing the amount of acid in the stomach which helps in the relief of acid-related indigestion and heartburn.
GERDOFF SUSPENSION
IT WORKS...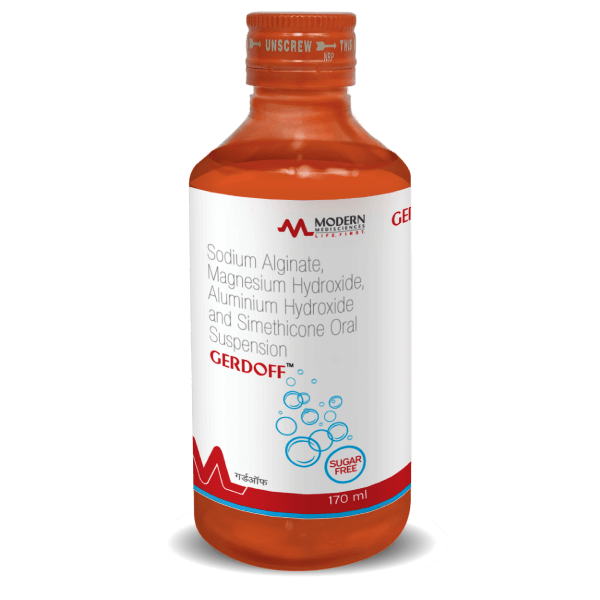 Composition
Sodium alginate 100mg + Magnesium Hydroxide 250mg + Aluminum Hydroxide 125mg + Simethicone 50 mg/ 5ml Suspension
Indications
GERD
Heartburn
Gastric distress
Description
Alginate acts via a unique mechanism by creating a mechanical barrier that displaces the postprandial acid pocket. In the presence of gastric acid, they precipitate into a gel and form a raft that localizes to the acid pocket in the proximal stomach.
Antacid neutralizes stomach acidity; alginate-antacid formulation is used to relieve heartburn and other gastric symptoms.
ZEKTAPRAZ
POWER OF ACTION
Composition
Pantoprazole 40 mg Injection
Indications
Prophylaxis of Acute Bleeding Stress Ulcer
Upper Gastrointestinal Bleeding
Gastric Ulcer & Duodenal ulcer
Zollinger-Ellison-Syndrome
Reflux Esophagitis
Description
Pantoprazole is a selective and long-acting proton pump inhibitor (PPI) clinically used for the management of acid-related diseases.
It blocks the final step in gastric acid secretion by specific inhibition of H+/K+ adenosine triphosphatase (ATPase) enzyme system present on the secretory surface of the gastric parietal cell. Both basal and stimulated acid are inhibited.